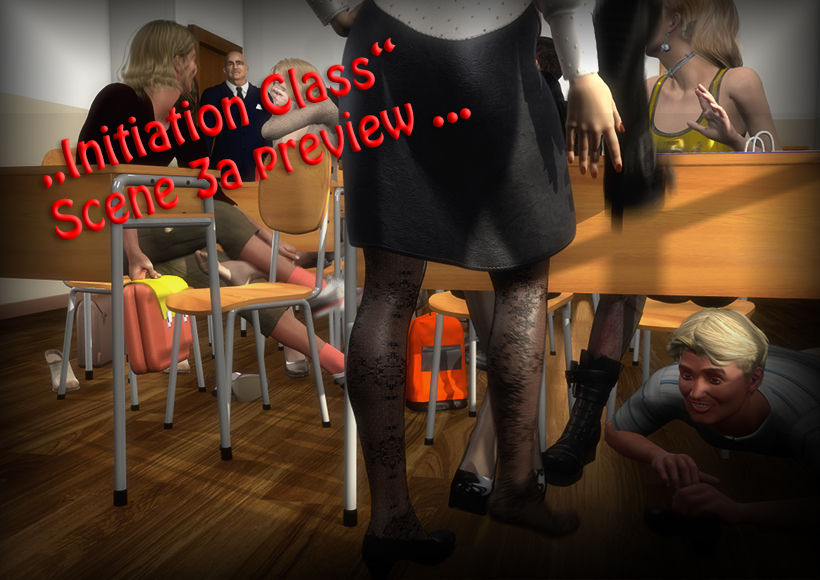 Update on progress for scene 3 (UPDATE 10/12/2018)…
The first stage of Scene 3a for "Initiation Class – Day 1" will be bigger than intended but will be available a little later than expected (no WIP upload as planned for today), due to aMember support trying to fix an issue (I don't want to fiddle with content nor use FTP while they are working on it) and because I want to complete some nice options that just popped up.
What you definitely will see this weekend: more embarrassed, annoyed or angry girls and guys in special "shoeish" situations, possibly a guy reaching for a kicked off shoe, optionally crawling under a table of your choice while unexpectedly the Dean comes to visit, catching poor Miss Fisher completely off guard, causing her to lose a shoe too …
no more spoilers today. Expect new content to be available saturday evening CET or latest on sunday depending on my progress (aMember support won't interfere during the Weekend but I'm not sure in what time-zone they are).
UPDATE 1 10/8/2018: sorry, wasn't able to work on sunday. But my machines kept rendering, so again, update for Scene 3 is late but we will have even more content than outlined earlier for example a very nice tickling animation for all of you who like tickling. Will be available soon, aiming for release on wednesday, this week, when hopefully aMember-support will have helped me to fix an issue …
UPDATE 2 10/10/2018: aMember support found the problem. I hope a permanent fix can be found by next weekend …
UPDATE 3 10/10/2018: upon request I'm attaching some previews for Scene 3a …
UPDATE 4 10/12/2018: no reply from webhost support on friday. sorry, but we'll have to postpone release of scene 3a to next week (Basic structure on animation and internal links might be affected from necessary changes). I'll try to finish the next panels for "High Heel Heroine Fatima" this weekend instead …